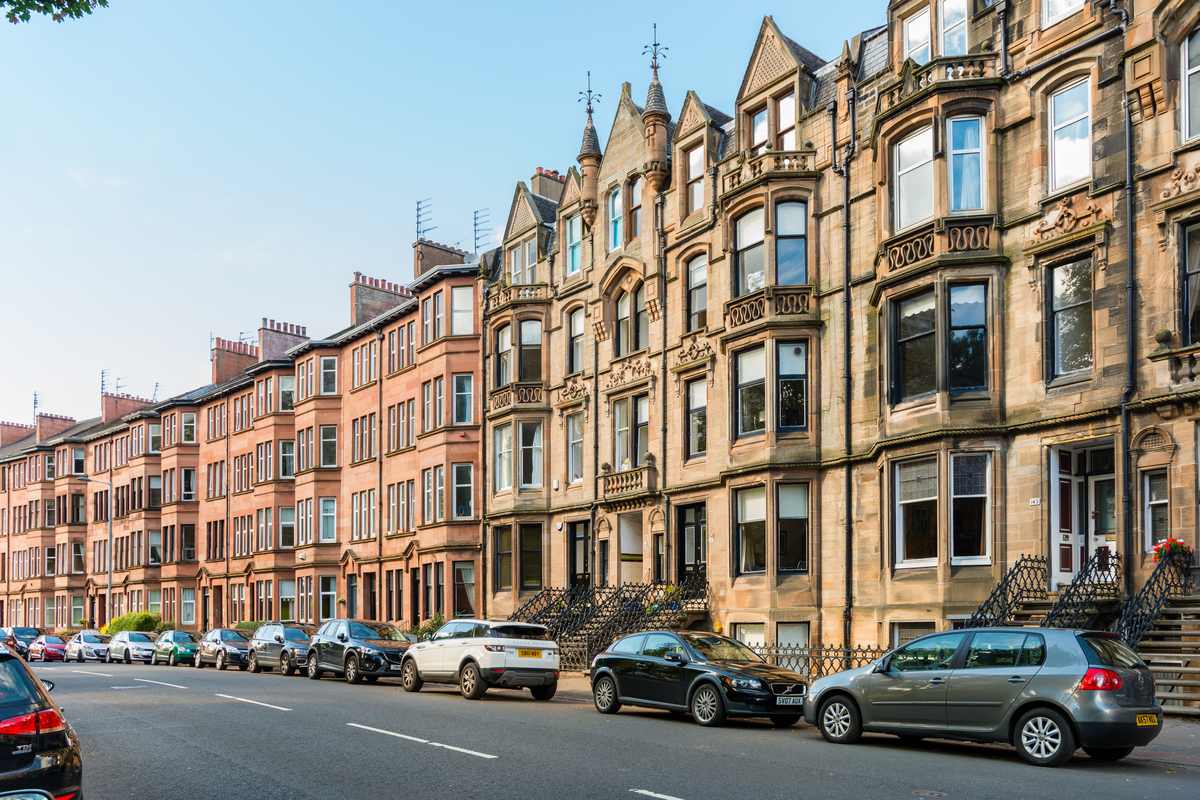 A History of Glasgow's Tenements
More than any other city in Scotland, Glasgow is renowned for its traditional tenements of between two and five storeys. Constructed of red, beige and grey sandstone – most of which was quarried in the Stranraer and Dumfriesshire areas – the majority of Glasgow's tenements were built between 1840-1920 to address the exponential rise in the city's population that occurred as a result of the Industrial Revolution. The rapid growth of Scotland's heavy industries at that time attracted thousands of workers to Glasgow, mainly from Ireland and the Scottish Highlands.
What Is a Tenement?
The official definition of a tenement is outlined in the Tenement (Scotland) Act 2004 as "Two or more related but separate flats divided from each other horizontally." It is a broad definition intended to include not only traditional tenements, but also four-in-a-block houses and larger houses that have been subdivided.
Private apartment blocks of two or more storeys built in the post-war period, as well as conversions and recently constructed blocks of flats built of brick are often classified as tenements. The owners of these types of properties are bound by many of the same maintenance rules as those who own older, traditional sandstone tenements.
Traditional tenements are entered by a 'close', which provides access to a common stairwell and back court. Many of these communal stairwells feature beautiful wooden and wrought iron banisters, decorative Arts and Crafts tiling, and stained glass windows on each level. Off the stairs on each landing are between 2-3 individual apartments, depending on the layout of the property.
Originally, very few tenements had internal sanitation or plumbing. A privy in the back court and hand pump for water in the street would have supplied hundreds of dwellers. Thankfully things have improved a bit since then!
Ranging from very small, single-room flats to expansive, elite apartments, the traditional tenement design created physical uniformity in the city. This complemented Glasgow's grid street plan and provided the semblance of an integrated community, far more than other cities in which the wealthy citizens moved to detached properties in the suburbs.
In order to avoid overtly monotonous streetscapes, however, architects began to experiment with window spacing, decorative cornicing, and bay window designs. Many of the city's tenement buildings include garden flats with separate entrances and private front gardens, whilst others have shop units on the ground floor that form part of the entire tenement block.
Decline and Redevelopment of Glasgow's Tenements
Traditional tenements were considered an improvement to the existing overcrowded accommodation; a way to house many people in small areas of space. As one would expect, a huge number of these dwellings soon became overcrowded and unsanitary, eventually developing into a maze of slum dwellings known as the 'Closes and Wynds' of Glasgow.
At the time of their decline, most new housing was being built in the suburbs and the popular, affluent area of Glasgow West End, far away from the air-pollution and noise of the industrial city. The new working class residents, on the other hand, were crammed into the increasingly crowded tenements in the City Parish to the east.
In 1866, The City Improvement Trust was charged with the task of cleaning up the terrible living conditions that existed in the centre of Glasgow. Learning from their visits to Paris, where they admired the innovative work of Baron Haussmann, the trustees were incredibly successful in adapting the traditional tenement design to rehouse thousands of Glasgow residents.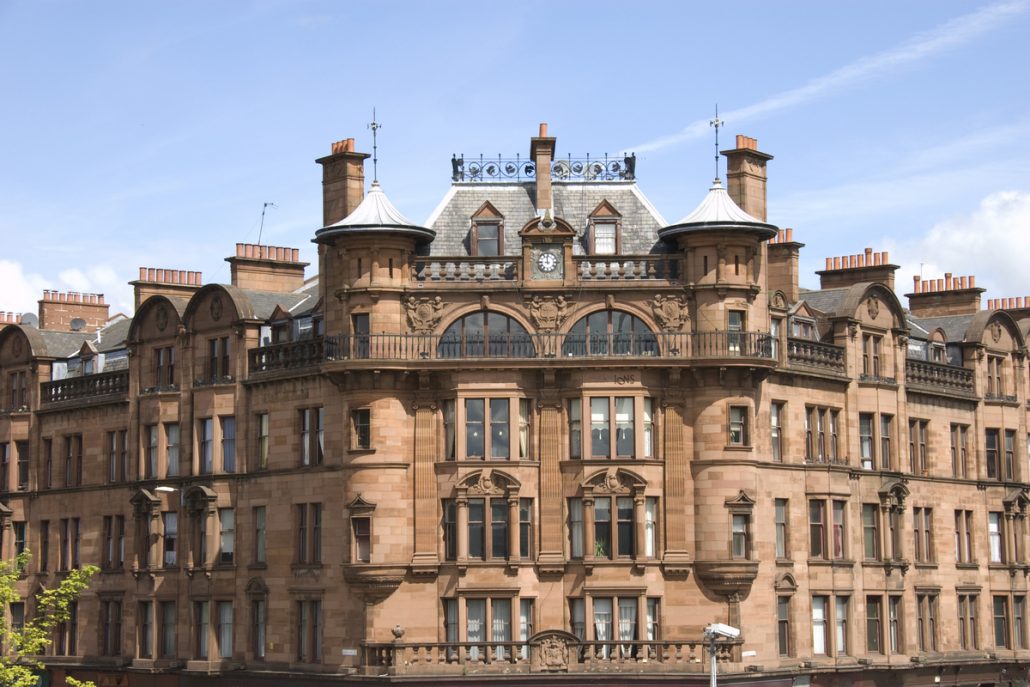 The Trust demolished expanses of congested slums on a scale far greater than in any other British or European city. They constructed a limited number of new tenemental streets containing apartments of two or more rooms, all of which had running water and inside toilet. There are some excellent examples of the Trust's tenements near the city centre, notably in the High Street and Saltmarket areas, and St George`s Mansions at Charing Cross.
Further demolition took place in the 1960s and 70s. At that time, the city's love of the tenement building style began to decline. Modern high-rise blocks were instead seen as the way forward, but this was short-lived. The popularity of tenements returned shortly thereafter in the late 1970s and 80s, and the city then embarked upon refurbishing the best examples of this admired architectural structure.
Glasgow Tenements for Contemporary Living 
Many fine examples of the traditional Glasgow tenement exist to this day, owing a great deal to the fine skill and craftsmanship of the architects and builders of the 19th and 20th centuries. These buildings were made to last. Much thought was clearly given to the practicalities of the tenement design, such as natural lighting and ventilation, as well as fine aesthetic details worthy of recognition. The latter is something we don't often see in many new builds.
Today, tenements are exceptionally popular and available in a variety of sizes and prices to suit all budgets. Ranging from simple one bedroom apartments to grande, luxurious duplexes, the majority of traditional tenements have enviably large rooms, high ceilings, and a wealth of ornamental period features. Spacious, enclosed private gardens to the rear are also commonplace, where residents can dry laundry or relax in the long summer evenings that we're so lucky to have in Scotland.
The West End of Glasgow has some truly remarkable tenements, many of which retain their original, stained-glass sash and case windows, stripped wooden floorboards, period panelled doors, decorative cornicing, and grande, open fireplaces. With the integration of many contemporary features suited to modern day living, Glasgow's tenements are now a desirable option for single occupants, professional couples and families of all sizes. A sound investment for home owners and landlords alike.
Vanilla Square – highly personal sales and lettings! Whether selling or letting property, you will always be liaising with one of our business partners, which makes our service that much more responsible and approachable. When you instruct us, your property will reach a wider audience as we are one of the few agents who are present on all the major property portals to offer sellers and landlords maximum exposure. If you're looking to buy, sell, rent or lease your property, or you're simply considering the idea, contact us by calling 

0141 229 0210 

or pop into our new office at 711 Great Western Road. One of our partners will be delighted to help and provide you with impartial, expert advice.
https://vanillasquare.co.uk/wp-content/uploads/2017/03/shutterstock_313450496.jpg
800
1200
Craig
https://vanillasquare.co.uk/wp-content/uploads/2020/12/VS_logo-01.png
Craig
2017-03-31 09:41:20
2017-03-28 11:24:40
A History of Glasgow's Tenements